Yoga for Elemental Meridians – CE Credit
June 19 @ 9:00 am

-

June 20 @ 5:00 pm

MDT

CAN $261.45
The Traditional Chinese Medicine (TCM) system invites you to look at the energetic or subtle body made up of meridians. These meridians act as pathways where Qi, Prana, and blood flow.
The meridians function as a network, much like a complex system of waterways, that can be mapped out throughout the entire body. First, there are the main channels. Then, those channels slowly move into smaller and finer internal pathways. These channels flow from one another without disconnection. Meridians are related to elements in the body, corresponding organs, and emotional states.
This workshop provides participants with tools, knowledge, and expertise on designing Yoga classes and individual sessions through the lens of the ancient Traditional Chinese Medicine system with a focus on restoring wellbeing and vitality through the elements of Wood, Fire, Earth, Metal, and Water and their coordinating Meridians.
OUTCOMES
Participants will be able to define the TCM elements and their characteristics.
Participants will be able to design class plans and individual practices based on the TCM elements and meridian lines.
Participants will have the ability to modify teaching techniques to instruct with a meridian line lens.
Participants will be able to identify additional tools and resources for their continued growth and education.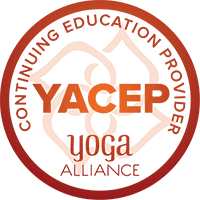 This program is registered with the Yoga Alliance for 15 hours of YACEP Continuing Education Credits
DATES & TIMES
2 DAY SERIES: We will meet via Zoom on Saturday, June 19th, and Sunday, June 20th from 9:00–5:00 PM MST with a 30-minute lunch break. (Convert to my time zone)
COST
$249 CDN + GST = 261.45 – Estimated exchange $206 USD / £150 GBP / €170 EUR
Scholarships and payment plans available