Wellness Book Recommendations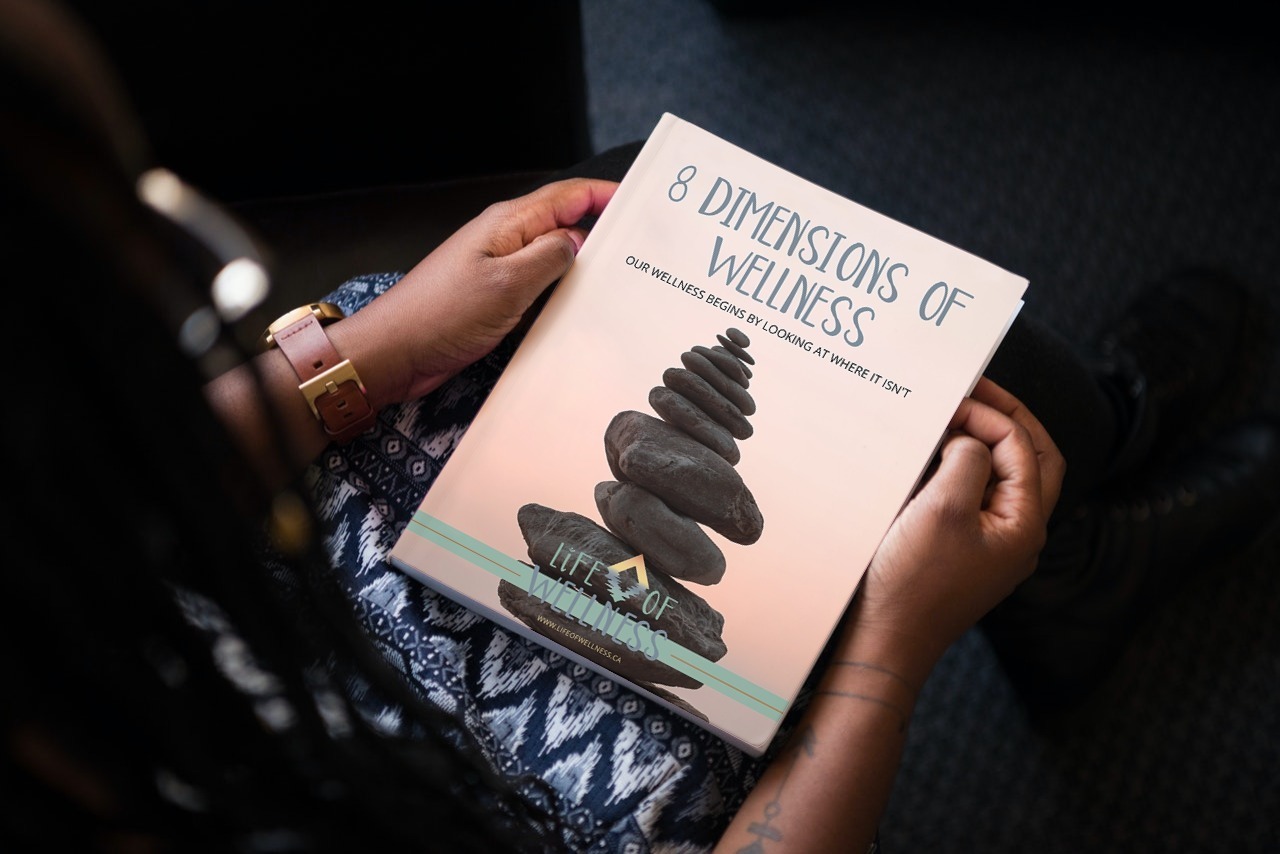 8 Dimensions of Wellness: Our Wellness begins by looking where it isn't
Your Secret Weapon to unlocking all 8 Dimensions of Wellness
Wellness is an active process of becoming aware of and making choices toward a healthy and fulfilling life. It is more than being free from illness. It is a dynamic process of change and growth. 
With this eBook, we show you how to create all 8 Dimensions of Wellness so you can unlock your wellness, peace of mind, and live your best life.
My Favorites from Brené Brown
Those of you who know me know I am a BIG fan of Brene Brown. Her research, talks, books, and interviews have inspired me a great deal.
Brené Brown, Ph.D., LMSW, is a research professor at the University of Houston where she holds the Huffington Foundation–Brené Brown Endowed Chair at the Graduate College of Social Work. She has spent the past sixteen years studying courage, vulnerability, shame, and empathy and is the author of three #1 New York Times bestsellers: The Gifts of Imperfection, Daring Greatly and Rising Strong. Her TED talk—"The Power of Vulnerability"—is one of the top five most-viewed TED talks in the world, with more than thirty million views. Brown lives in Houston, Texas, with her husband, Steve, and their children, Ellen and Charlie.
Braving the Wilderness – Brene Brown
"True belonging doesn't require us to change who we are. It requires us to be who we are." Social scientist Brene Brown, Ph.D., LMSW, has sparked a global conversation about the experiences that bring meaning to our lives–experiences of courage, vulnerability, love, belonging, shame, and empathy. In Braving the Wilderness, Brown redefines what it means to truly belong in an age of increased polarization. With her trademark mix of research, storytelling, and honesty, Brown will again change the cultural conversation while mapping a clear path to true belonging.
The Gifts of Imperfection – Brene Brown
Each day we face a barrage of images and messages from society and the media telling us who, what, and how we should be. We are led to believe that if we could only look perfect and lead perfect lives, we'd no longer feel inadequate. So most of us perform, please, and perfect, all the while thinking, What if I can't keep all of these balls in the air? Why isn't everyone else working harder and living up to my expectations? What will people think if I fail or give up? When can I stop proving myself? In The Gifts of Imperfection, Bren頂rown, Ph.D., a leading expert on shame, authenticity, and belonging, shares what she's learned from a decade of research on the power of Wholehearted Living–a way of engaging with the world from a place of worthiness. In her ten guideposts, Brown engages our minds, hearts, and spirits as she explores how we can cultivate the courage, compassion, and connection to wake up in the morning and think, No matter what gets done and how much is left undone, I am enough, and to go to bed at night thinking, Yes, I am sometimes afraid, but I am also brave. And, yes, I am imperfect and vulnerable, but that doesn't change the truth that I am worthy of love and belonging.
Gifts of Imperfect Parenting – Brene Brown
We all know that perfect parenting does not exist; however, we still struggle with the social expectations that teach us that being imperfect is synonymous with being inadequate. These messages are powerful and we end up spending too much precious time and energy managing perception and creating carefully edited versions of families to show to the world.
Based on 12 years of pioneering research, Dr. Brene Brown offers a new perspective on the subject of perfect parenting. She states, "It's actually our ability to embrace imperfection that will help us teach our children to have the courage to be authentic, the compassion to love themselves and others, and the sense of connection that gives true purpose and meaning to life."
The Power of Vulnerability – Brene Brown
Is vulnerability the same as weakness? "In our culture," teaches Dr. Brené Brown, "we associate vulnerability with emotions we want to avoid such as fear, shame, and uncertainty. Yet we too often lose sight of the fact that vulnerability is also the birthplace of joy, belonging, creativity, authenticity, and love." On The Power of Vulnerability, Dr. Brown offers an invitation and a promise – that when we dare to drop the armor that protects us from feeling vulnerable, we open ourselves to the experiences that bring purpose and meaning to our lives. Here she dispels the cultural myth that vulnerability is weakness and reveals that it is, in truth, our most accurate measure of courage.
Rising Strong – Brene Brown
The physics of vulnerability is simple: If we are brave enough often enough, we will fall. The author of Daring Greatly and The Gifts of Imperfection tells us what it takes to get back up, and how owning our stories of disappointment, failure, and heartbreak gives us the power to write a daring new ending. Struggle, Brené Brown writes, can be our greatest call to courage, and rising strong is our clearest path to deeper meaning, wisdom, and hope.
Daring Greatly – Brene Brown
"It is not the critic who counts; not the man who points out how the strong man stumbles, or where the doer of deeds could have done them better. The credit belongs to the man who is actually in the arena, whose face is marred by dust and sweat and blood; who strives valiantly; . . . who at best knows, in the end, the triumph of high achievement, and who at worst, if he fails, at least fails while daring greatly." —Theodore Roosevelt
Every day we experience the uncertainty, risks, and emotional exposure that define what it means to be vulnerable or to dare greatly. Whether the arena is a new relationship, an important meeting, our creative process, or a difficult family conversation, we must find the courage to walk into vulnerability and engage with our whole hearts.
Give yourself the gift of being present over being perfect!
A few years ago, I found myself exhausted and isolated, my soul and body sick. I was tired of being tired, burned out on busy. And, it seemed almost everyone I talked with was in the same boat: a longing for connection, meaning, depth, but settling for busy.
I am a wife, mother, daughter, sister, friend, neighbor, writer, and I know all too well that settling feeling. But over the course of the last few years, I've learned a way to live, marked by grace, love, rest, and play. And it's changing everything.
This is my favorite be kind to yourself and present in your life book
I had the pleasure of being in a week-long workshop with Will Marre where he shared many of the stories in this book and the philosophy to which it was written. It is something that will be with me for a very very long time. I will suggest having some tissues as his ability to tell a story that connects on all levels is quite strong.
Good Reads Description:
A visionary business coach shows how to rethink our strategies and get started with making our lives count … and the world a better place. ** For many, the current economic crisis has clearly demonstrated that "Big Business" and too much "me" have almost destroyed our world. But visionary business coach Will Marre steps in to show us how to be leaders of meaningful lives and a better world. By joining Will's trailblazing approach to civic activism through self-knowledge, you'll learn how to become an engine of change and be inspired to … * Rethink where you are in your life plan * Focus on what really matters to you–your Promise * Get off the starting line and race with like-minded individuals to make a difference–big or small. Will shows us the power of individuals and corporations, like … * Chris who, surprised by his own compassion, decided on the spot to pay for the college education of one of the Lost Boys of Sudan and later helped him build a school in Southern Sudan. * Martin, a global executive of a multi-billion dollar company, who re-invented himself as a revolutionary leader of environmental sustainability throughout North and South America–turning his knowledge of business into a force for change. * Kim, who saved her money-losing chain of technical schools by enlisting the help of every employee and transformed the company into a powerhouse of 21st-century skill training within eighteen months–without a single lay-off. * Kate, who used the grief and wisdom of losing her mother to cancer to found a groundbreaking charity to help grieving children when she was only 27. * Mike, who leapfrogged from a surf-ski bum into a leading creator of sustainable footwear for an international company. In tumultuous times, for readers who are not ready to give up, and are ready to take responsibility for driving the future, Save the World & Still Be Home for Dinner is a beacon of hope and a model for civic activism and corporate social responsibility.
This is my favorite relationship book
We rely on science to tell us everything from what to eat to when and how long to exercise, but what about relationships? Is there a scientific explanation for why some people seem to navigate relationships effortlessly, while others struggle? According to psychiatrist and neuroscientist Dr. Amir Levine and Rachel Heller, the answer is a resounding "yes."
In Attached, Levine and Heller reveal how an understanding of adult attachment-the most advanced relationship science in existence today-can help us find and sustain love. Pioneered by psychologist John Bowlby in the 1950s, the field of attachment posits that each of us behaves in relationships in one of three distinct ways:
Anxious people are often preoccupied with their relationships and tend to worry about their partner's ability to love them back
Avoidant people equate intimacy with a loss of independence and constantly try to minimize closeness.
Secure people feel comfortable with intimacy and are usually warm and loving.
In this book Levine and Heller guide readers in determining what attachment style they and their mate (or potential mate) follow, offering a road map for building stronger, more fulfilling connections with the people they love.
Changing the mind!
After decades of research, world-renowned Stanford University psychologist Carol S. Dweck, Ph.D., discovered a simple but groundbreaking idea: the power of mindset. In this brilliant book, she shows how success in school, work, sports, the arts, and almost every area of human endeavor can be dramatically influenced by how we think about our talents and abilities. People with a fixed mindset—those who believe that abilities are fixed—are less likely to flourish than those with a growth mindset—those who believe that abilities can be developed. Mindset reveals how great parents, teachers, managers, and athletes can put this idea to use to foster outstanding accomplishment.
In this edition, Dweck offers new insights into her now famous and broadly-embraced concept. She introduces a phenomenon she calls false growth mindset and guides people toward adopting a deeper, truer growth mindset. She also expands the mindset concept beyond the individual, applying it to the cultures of groups and organizations. With the right mindset, you can motivate those you lead, teach, and love—to transform their lives and your own.
Diving into Mindfulness
MINDFULNESS reveals a set of simple yet powerful practices that can be incorporated into daily life to help break the cycle of anxiety, stress, unhappiness, and exhaustion. It promotes the kind of happiness and peace that gets into your bones. It seeps into everything you do and helps you meet the worst that life throws at you with new courage.
The book is based on Mindfulness-Based Cognitive Therapy (MBCT). MBCT revolves around a straightforward form of mindfulness meditation which takes just a few minutes a day for the full benefits to be revealed. MBCT has been clinically proven to be at least as effective as drugs for depression and is widely recommended by US physicians and the UK's National Institute for Health and Clinical Excellence – in other words, it works. More importantly, it also works for people who are not depressed but who are struggling to keep up with the constant demands of the modern world.
MBCT was developed by the book's author, Oxford professor Mark Williams, and his colleagues at the Universities of Cambridge and Toronto. By investing just 10 to 20 minutes each day, you can learn the simple mindfulness meditations at the heart of MBCT and fully reap their benefits. The book includes links to audio meditations to help guide you through the process. You'll be surprised by how quickly these techniques will have you enjoying life again.
Get out of your own way with this incredible book
This is a completely updated edition of the 1983 classic that introduced a powerful method for gaining freedom from self-defeating behaviors and beliefs. Rick Carson, the creator of the renowned Gremlin-Taming™ Method, has revised the book to include fresh interactive activities, real-life vignettes we can all identify with, and new loathsome gremlins ripe for taming. Carson blends his laid-back style, Taoist wisdom, the Zen Theory of Change, and sound psychology in an easy-to-understand, unique, and practical system for banishing the nemesis within. Among the things you will learn are:
Techniques for getting a sliver of light between the natural you and the monster of your mind.
The extraordinary power of simply noticing and playing with options.
Six keys to maintaining emotional balance amid upheaval.
Could Pooh Bear be a great Taoist Master? A short and fun read
The how of Pooh? The Tao of who? The Tao of Pooh!?! In which it is revealed that one of the world's great Taoist masters isn't Chinese–or a venerable philosopher–but is in fact none other than that effortlessly calm, still, reflective bear. A. A. Milne's Winnie-the-Pooh! While Eeyore frets and Piglet hesitates, and Rabbit calculates, and Owl pontificates, Pooh just is.
And that's a clue to the secret wisdom of the Taoists.
Learn about Virtue from Piglet
The Te of Piglet . . . in which a good deal of Taoist wisdom is revealed through the character and actions of A. A. Milne's Piglet. Piglet? Yes, Piglet. For the better than impulsive Tigger? or the gloomy Eeyore? the intellectual Owl? or even the lovable Pooh? Piglet herein demonstrates a very important principle of Taoism: The Te–a Chinese word meaning Virtue–of the Small.
The practical wisdom of finding awakening through love
At once practical, playful, and spiritually sound, this book is about creating a new love story in your life. Drawing from Christian, Buddhist, Sufi, and other spiritual traditions, If the Buddha Dated shows how to find a partner without losing yourself. Kasl, a practicing psychotherapist, workshop leader, and Reiki healer for thirty years, offers practical wisdom on using the path to love as a means of awakening.
If the Buddha Dated teaches that when you stay loyal to your spiritual journey, you will bring curiosity, fascination, and a light heart to the dating process.
The art of raising children to make peace in the world
In this wise and insightful volume, Charlotte Kasl applies her signature blend of spiritual guidelines, exercises, and practical advice to a stage of life that leaves many of us searching for answers. If the Buddha Had Kids draws from Buddhist, Quaker, and other spiritual traditions to help parents raise children who value cooperation, compassion, and understanding, emphasizing that finding peace within a family is the first step toward creating a peaceful world.
Beginning with creating a healthy bond with your child and moving through all stages of life, encouraging empathy, respect, fascination, and curiosity, Kasl explores the spiritual journey of parenting. She also draws on her decades of experience as a healer and practicing psychotherapist to tackle very practical concerns such as the roles of electronics, money, sexuality, and education, and what it means to find one's voice.
This lively book promises to bring inspiration, humor, and wisdom to the joys and struggles of raising children in our contemporary world and will serve as an enlightening companion for all moms and dads.
The art of lasting peaceful relationships
Filled with the same lighthearted, highly practical, spiritually sound guidance that resonated with readers of If the Buddha Dated, this book is a fresh and inspiring guide for anyone who wants to strengthen, deepen, or revitalize a relationship or marriage. Charlotte Kasl, Ph.D., renowned for her ability to speak with depth, wisdom, and humor on important matters of the heart, empowers us to create fulfilling and vibrant relationships through a commitment to awareness, truth, and compassion.
If the Buddha Married explores how a "beginner's mind" can help us see our partners and ourselves afresh each day as we learn to nurture our commitment to each other. Marriage is truly a journey. Combining key teachings of Buddhism, Christianity, and other spiritual traditions with elements of psychology, this book is a wise and trusted guide through the joys and challenges of relationships that last and grow.
Brené Brown studies human connection — our ability to empathize, belong, love. In a poignant, funny talk at TEDxHouston, she shares a deep insight from her research, one that sent her on a personal quest to know herself as well as to understand humanity. A talk to share.
In 2009, Simon Sinek started a movement to help people become more inspired at work, and in turn, inspire their colleagues and customers. Since then, millions have been touched by the power of his ideas, including more than 28 million who've watched his TED Talk based on START WITH WHY — the third most popular TED video of all time.
Sinek starts with a fundamental question: Why are some people and organizations more innovative, more influential, and more profitable than others? Why do some command greater loyalty from customers and employees alike? Even among the successful, why are so few able to repeat their success over and over?
People like Martin Luther King Jr., Steve Jobs, and the Wright Brothers had little in common, but they all started with WHY. They realized that people won't truly buy into a product, service, movement, or idea until they understand the WHY behind it.
START WITH WHY shows that the leaders who've had the greatest influence in the world all think, act, and communicate the same way — and it's the opposite of what everyone else does. Sinek calls this powerful idea The Golden Circle, and it provides a framework upon which organizations can be built, movements can be led, and people can be inspired. And it all starts with WHY.